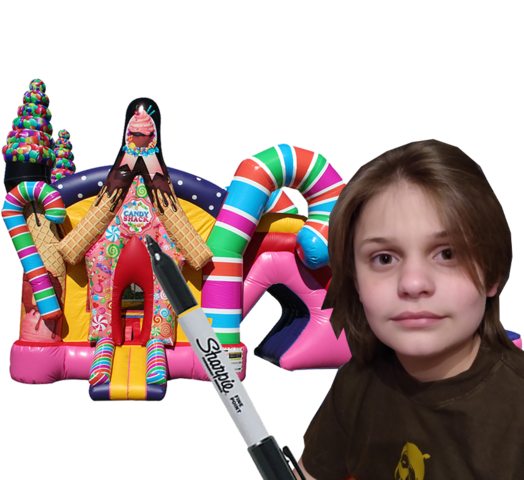 Tre's Graffiti Candy Shack Combo! - No Pool
Actual Size: 35'x15'x17'
Setup Area: 37'x17'
Outlets: 2
Age Group: 2-14
Attendants: 1




Once upon a time, there was a boy named Tre who liked magic markers- and humor. Tre comes from a wonderful family of wholesome folks who encourage their children to always try to do the right thing and to respect others and their property. One day, Tre's family rented a Candy Shack for his birthday! Tre decided to have some fun with his favorite Sharpie and went to town on the Candy Shack! Our crews, who are the best at what they do, tried and tried to get the markings off, especially since Tre's mom literally drove him to our warehouse before school one day so that Tre could apologize to our company and crews in person! Those crew members didn't want to see Tre's mom have to pay for a replacement unit (which is our policy), so they worked day and night to no avail; turns out "permanent" markers ARE permanent! Management was really moved by Tre and his mom's efforts to make amends, so the minds of managment went to work on a way to avoid holding Tre and his family responsible (don't get any ideas!). Thus, the "Tre's Graffiti Candy Shack Combo!" was born!
We figure if Tre enjoyed it, other kiddos would too! So here's another industry first - a bounce house rental that your kids (and you) can grafitti up, sign your name, make a meme, add some words of encouragement or whatever comes to mind; just keep it clean and rated G! We say, keep this bounce house weird! We do not supply the markers so that'll be on you. Feel free to use any color and graffiti any part of the Candy Shack, inside and out! If your graffiti is really cool, fun, funny or profound, we may even feature it on our social medias! Thank you for playing a part in Tre's ongoing story and for allowing this awesome family to avoid a financially disasterous event :-) Once this bounce house is completely covered in graffiti, we will donate it to a local children's charity (such as the Boys & Girls Club of Austin).
Now for the regular product description below:
Straight from Candy Cane Lane, the Candy Shack Candyland Combo is a fantastical journey into the inner desires of all children; as Willy Wonka would put it There is no life I know to compare with pure imagination. Living there, you will be free if you truly wish to be. Come enter the world of sweet everlasting fun with a surprise around every corner! The Candy Shack Candyland Combo features four elements: bouncer, climber, double lane slide and basketball hoop. Any group of kids are sure of being entertained and captivated for hours by the Candy Shack Candyland inflatable. The whimsical design and artwork bring an element of fun and excitement to your event! This unit features all of the most recent safety updates.

UPGRADES AVAILABLE: This item can be upgraded to a waterslide.

SIZE: 35'x15'x17'h (requires a 37'x17' setup area)

ELECTRICAL: This item requires TWO high-powered blowers therefore two separate circuits within 100' each of the setup area are recommended.

CAPACITY: 8-12 participants at one time. An adult MUST be present at ALL TIMES while unit is in use.

Need Candy and other sweet delectables? Click here!
Need Christmas plates, napkins and party favors?
Click
here
!