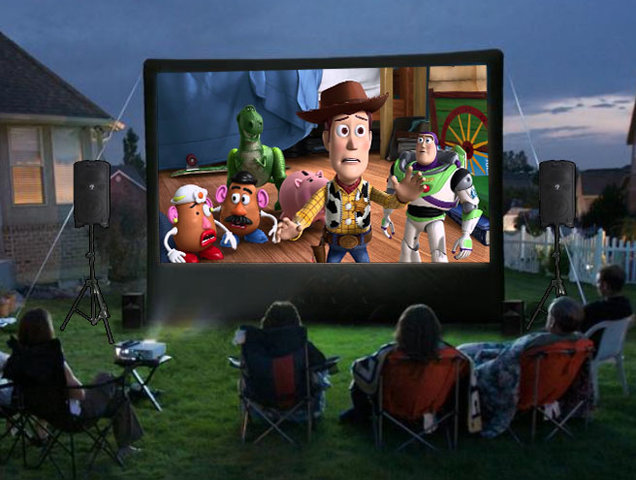 Movie Night Outdoor Cinema (complete system)
Actual Size: 20'x10'x15'h
Setup Area: 25'x30'x18'h
Outlets: 1
Age Group: 2-14 years
Attendants: 0




Time to party with your favorite movie, TV show, video game, home movies, online content or outdoor presentation! Included in this package is our 20'x15'' giant screen, stereo PA system w/ mic, HD movie projector and DVD/Blu-Ray player. We'll setup before dark and pickup the next day.

The viewing area on the giant screen is 16' wide by 9' tall, which is a 220-inch diagonal projection surface. This system is large enough to accommodate up to 250 people sitting on grass, up to 400 people in chairs or up to 1,000 people standing. Our audio system is professional grade and will reproduce any epic soundtrack faithfully.

PLEASE NOTE: We include some cabling (HDMI, 1/8" stereo, RCA, Optical) for other media sources, but be sure to ask us about your setup to ensure that all necessary connectivity has been considered.

WIND WARNING: The Outdoor Cinema package cannot be setup if sustained winds are in excess of 10 mph. Our tech will take 3 wind readings to ensure compliance for the safety of all concerned.

PUBLIC PLAYING OF MOVIES: This does not apply to personal events on private property. If you are planning a public event, or a private event on public property, you may be subject to movie licensing requirements in order to legally play a movie or other copyrighted content for your event. This is a relatively simple process and there are two companies that make it easy to rent a Blu-Ray of your favorite movies:

Criterion Pictures - Featuring titles from 20th Century Fox, OpenRoad, Blue Sky, Fox Searchlight, DreamWorks and many more.
Swank Motion Pictures, Inc. - Featuring titles from Touchstone Pictures, Walt Disney Pictures, Sony Pictures, Summit Entertainment, MGM and many more.

SIZE: 20' x 10' x 15'h (requires a 25' x 30' x 18'h setup area)

POWER: This system requires 110v (standard) outlet within 100' of setup area. If no power available, a generator would be required.

Check out our line of Movie Night inflatables HERE!