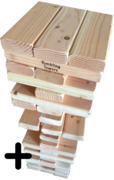 Supersize Your Tumbling Tower!
$49.00
Dimensions: 3'x3'x6'
Outlets: 0
Monitors: 0
Double your fun by SUPERSIZING your Tumbling Tower! This add-on includes another 54 pcs (each piece is 10.5″ Long) with 18 rows of Tumbling Tower Fun. This jumbo set adds another 2.5ft which will STACK up to a total of 10+ft during play! Have fun!!! PLEASE NOTE: This is a supplemental rental which requires a delivery fee if rented alone.